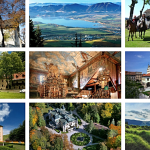 Tip for trip?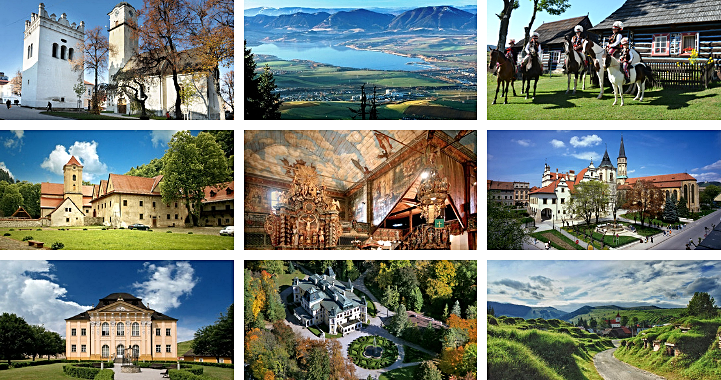 Go on a trip?
There are many tips for trips in Poprad and its surroundings – distant and close. Just decide where to go.
WEST – LIPTOVSKY MIKULAS
Historical Liptov region, if you prefer winter recreation in The West and Low Tatras.

Summer recreation near Liptovska Mara dam, visit cultural – historical monuments.
Važec (31 km): Važecká cave, Soldiers cemetery
Východná (37 km): Folk festival every year in July
Pribylina (53 km): Natural village – Museum of Liptov
Liptovský Hrádok (53 km): Grand Castle, Etnographical and shepherd museum, Exposition of mining and metal working in Liptov region – Maša (Vážnica a klopačka)
Liptovský Mikuláš (61 km): St. Nicholas Church, Museum of Janko Kráľ, Exposition Tatrín, The House of the Razus brothers, Synagogue, Liptov museum – NKP Black Eagle, Slovak museum of nature protection and cave exploration, Museum of L. Mattyasovszký, Liptov gallery of Peter Michal Bohúň, The House of Photography, Centre of Koloman Sokol, Rumanský Art Centre, Gallery P&P Petráš, Aquapark Tatralandia.
NORTHWEST – HIGH TATRAS
Starý Smokovec (13 km): sled riding, educational paths, Hrebienok – Studenovodské waterfalls
Tatranská Lomnica (19 km): Museum of TANAP, Ski museum The first ski museum, Exposition Tatra nature – Botanical garden, Tatrabob and other attractions, cableway to Skalnaté pleso and Lomnický štít, chair lift to Lomnické sedlo, educational path
Tatranská kotlina (24 km): Belianska cave, rope park
Štrbské Pleso (30 km): Mountain water area, boating, ponds of love, sports compound with attractions, waterfalls Skok, Solisko – cable chairlift, Popradské pleso
Ždiar (32 km): Museum Ždiar house, Bachleda valley with summer and winter attractions
NORTH – CERVENY KLASTOR – PIENINY
Červený kláštor (51 km): Cartusian Monastery, rafting on Dunajec river
NORTHEAST – KEZMAROK, STARA LUBOVNA
Vrbov (15 km): thermal swimming pool Thermal park Vrbov
Kežmarok (15 km): Slovak royal charter town, Wooden Protestant Church constructed under restrictive articles (UNESCO), Kežmarok Castle, Museum of living culture in Spiš region, Lyceum, Basilica of Saint Cross with Rennaisance Belfry, New Evangelical Church, Paulínsky church, Historical Cemetery.
Spišská Belá – Strážky (20 km): Chateau Strážky with English park (Slovak national gallery)
Spišská Belá (22 km): Slovak technical museum, Museum of J. M. Petzval, Museum of Michal Greisiger
Podolínec (32 km): Church of Assumption of Virgin Mary with Belfry, Church and Monastery of piarists, Podolínsky castel, city walls, town houses
Vyšné Ružbachy (40 km): Spa Vyšné Ružbachy, Ski park Vyšné Ružbachy, travertine crater, natural symposium of sculpture
Hniezdne (44 km): Nestville park – distillery with exhibitions and a visitors' tour
Stará Ľubovňa (49 km): Slovak royal charter town, Ľubovňa castle, Ľubovňa natural museum – Museum of Zamagurie region village, Church of St. Nicholas, The House of Ľubovňa burghers
EAST – LEVOCA, SPISSKE PODHRADIE
Spišský Štvrtok (18 km): Gothic church with Chapel, Chateau housing the Centre for Social Services (DSS) is open for public with exhibition of the Center's clients' handicraft.
Levoča (28 km): Slovak royal charter town, St. James Temple, Renaissance townhall – museum, renaissance belfry, cage of shame, Evangelical church, Museum – Art culture in Spiš region, pilgrimage to the Cult of Mary's mountain with church of the Visitation of Virgin Mary, Gothic church and Monastery of Minorites, Master Paul´s House – museum, House of Thurzo, Baroque church of Minorites, city walls.
Spišské podhradie (43 km): Spiš castle (UNESCO), Spišská Kapitula: St. Martin's Cathedral, Bishop´s Palace, seminary, canonists'campus.
Žehra, part Hodkovce (47 km): Chateau housing the Centre for Social Services (DSS) is open for public with exhibition of the Center's clients' handicraft.
Žehra (48 km): Romanesque – gothic church.
Dreveník (48 km): Natural travertine rock formations
SOUTHEAST – SPISSKA NOVA VES
Gánovce (5 km): The area where a Neanderthal skull was found, Aqua Spa Ganovce.
Smižany (24 km): Ethnographic Museum, Birthplace of Ján Nálepka
Spišská Nová Ves (28 km): Museum of the Spiš region, Slovak technical museum, Artist´s Gallery, ZOO, Rope park Monkeyland, Educational mining path Novoveská Huta,
Markušovce (35 km): Castle
Slovak Paradise National park Podlesok, Hrabušice (16 km) – summer and winter tourism, summer recreation on the waterfront (Palcmanská Maša)
SOUTH – ROZNAVA
Kvetnica, recreation area (5 km) – summer and winter hiking, calvary, mountain Goats Backs with beautiful views of the surroundings
Slovak Paradise National Park Podlesok, Hrabušice (16 km) – summer and winter tourism, summer recreation on the waterfront (Palcmanská Maša)
Dobšinská ice cave (30 km)
Ochtiná (72 km): Ochtinská aragonite cave
Betliar (67 km): Chateau Betliar with an English park
Rožňava (73 km): Church of the Assumption of Virgin Mary, watchtower, St. Francis Xavier Church
Krásnohorské podhradie (78 km): Krásna Hôrka Castle (at present under reconstruction), Andrássy Mausoleum
SOUTHWEST – LIPTOVSKA TEPLICKA
Liptovská Teplička (23 km)
---