Carriage Museum and Equestrian Experience
Part of the town: Poprad (časť mesta)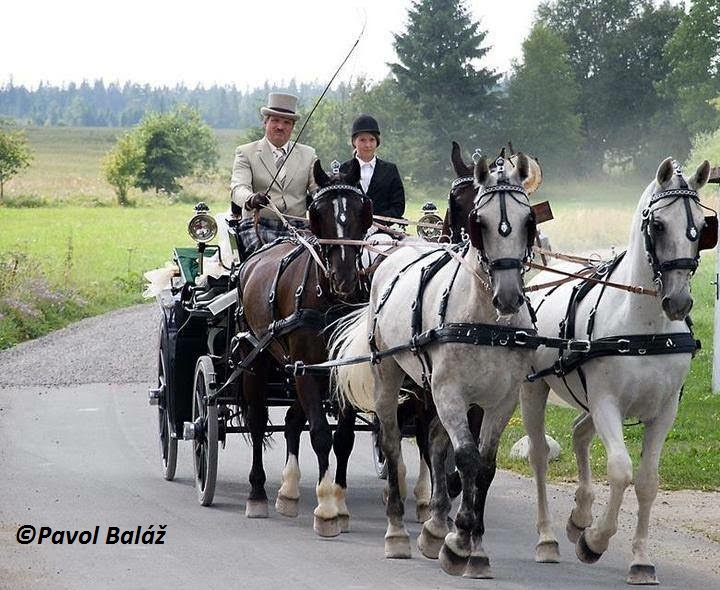 Carriage Museum and Equestrian Experience
The Carriage Museum holds 30 pieces of different carriages and sleighs and a variety of other items. For example, saddles from World War I, World War II, the English harnesses of the Bornemisz noblemen, or bust-fastened funeral harnesses for the four-horse chariot of Count Andrassy.
Museum admission is free, but you can support its operation with a voluntary contribution.
CARRIAGE TOUR
Beautiful surrounding meadows offering vistas of the panorama of the Tatra Mountains or the nearby villages can also be seen in a comfortable and almost royal manner: from a carriage drawn by a team of horses of the noble Lipizzan breed.
Whether you choose a 30 or 60 minute ride is up to you!
The 30 – minute ride in the carriage costs only 20.00 EUR (carriage capacity: 4 people).
RIDING LESSONS
Training for amateurs or advanced riders.

A group course for beginners is offered to the minimum of 5 participants. The price is 20 € per person and per training day.

Individual schedule can be agreed with more advanced riders according to the needs of the client, who has the opportunity to bring their own horses.
The price is negotiated individually, but an hour of training is approximately 20 €.
You can arrange your visit to the museum, as well as other services, over the phone, daily from 9:00 to 18:00 (preferably in the afternoon on Thursdays, Fridays and Saturdays).
In addition to museum exhibits, carriage tours, and riding lessons, the area also offers the manufacture and sale of leather products – e.g. harnesses, as well as leather accessories for daily wear, wedding photography and stylish ride of a wedding couple in a coach, or housing and training of horses.
Popradská 653, Poprad - Matejovce
Part of the town: Poprad (časť mesta)
Telephone: +421 903 468 396
Email: kociarovemuzeum@gmail.com
---